NASA recently tested a rocket engine 75% composed of 3D printed DMLS parts. "This new manufacturing process really opened the design space and allowed for part geometries that would be impossible with traditional machining or casting methods," said NASA designer David Eddleman.
Because of the highly complex geometries and its capabilities in exotic metals like Inconel and Titanium, Direct Metal Laser Sintering (DMLS), 3D metal printing, is not only widely used for research, but is considered a cost-efficient manufacturing measure. Aerojet reports that its rocket made entirely from 3-D-printed components reduced manufacturing costs by 65 percent.
DMLS uses a 3D model to direct its lasers to fuse material together layer by layer in optimized micro slices. There is no waste or scrap metal, thereby reducing the cost of printing in exotic metals like Titanium and Inconel by 50-70%.
Thrusters
Thrusters are one of the most successful 3D metal manufacturing applications. DMLS allows rocket scientists to eliminate potential leaks or failure points by integrating and printing multiple part assemblies as one seamless part. "Aerojet Rocketdyne continues to push the envelope with both the development and application of 3-D printed technologies, and this successful test opens a new paradigm of possibilities that is not constrained by the limits of traditional manufacturing techniques," said Aerojet Rocketdyne's Vice President of  Space Advanced Programs Julie Van Kleeck.  Read more at http://www.spaceflightinsider.com/missions/commercial/3d-printed-rocket-propulsion-system-satellites-successfully-test-fired/#CigcAF5bh8z049Vk.99
Micro channels and organic flow patterns are also achievable with DMLS. 3D metal printing is a disruptive technology that facilitates efficiencies and custom designs on demand, both of which are desirable for satellite and rocket thruster needs. NASA, ESA and many private companies have successfully tested thrusters in the past 2 years. The thruster that NASA Marshall fired Fall 2015 is almost made up entirely of 3D-printed parts, the only piece that's not 3D printed is the liquid oxygen pump.
First 3D Printed Rocket Launch Courtesy of Bagaveev Corporation
Satellites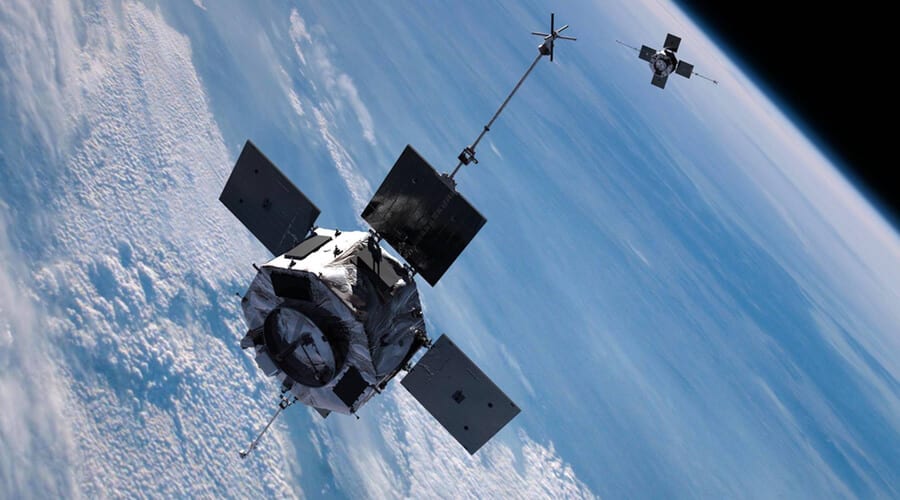 The U.S. is scheduled to begin construction on a radar array in 2015 which will track some 200,000 objects orbiting the planet. DMLS allows weight reduction by nearly 70% while maintaining the same part strength and integrity. Solid components can be latticed in custom honeycomb patterns for optimized weight reduction and part function. An article on 3ders.org comments, "Countless (NASA) greenlighted projects for satellites and the upcoming mission to Mars have included metal 3D printing in one way or another, often with the help of external partners." i3D MFG™ is proud to supply NASA and other partners with leading edge 3D metal printed components.